By: Sun Noor 
This year has been quite phenomenal on the music front, as it provided us with thousands of new releases and endless tours. Not only was I finally able to listen to some highly anticipated albums from musicians who have not been active in decades, but I also uncovered plenty of new talent that make 2018 appear quite promising. As well, both Liam and Noel Gallagher released albums this year which sounds too good to be true and perhaps almost equivalent to an Oasis reunion? I have attended 86 concerts, 7 festivals and spent countless hours listening to music, which made it possible for me to block out the atrocities occurring in the world and it's current state. Despite the joy that music managed to bring me this year, there were certain moments that were equally saddening. For instance, the deaths of some of my favourite musicians including Chuck Berry, Charles Bradley, Chris Cornell (Soundgarden and Audioslave) and Malcom Young (AC/DC). Their music will continue to be cherished either way. The start of a new year calls for new music, new artists and plenty of shows which is always exciting, as it definitely the only aspect I look forward to.
On that note, here are my top 15 favourite albums of the year:
1. Not Even Happiness by Julie Byrne.
The folk songstress released her sophomore album on January 13th 2017, which was three years proceeding her impeccable debut Rooms With Walls and Windows. Byrne delivers another outstanding performance with her incomparable storytelling ability, allowing for auditors to be taken on a tranquil journey with the accompaniment of samples such as crashing waves. Her soft vocals compliment the record's slightly melancholic tone, which is very alluring. The rawness and the simplicity of it makes it equally captivating. This was one of the handful of albums that I found myself playing on repeat throughout the year. My favourite songs off this record are " Sea as it Glides," "Morning Dove," and "Natural Blue" because there's something calming about those tracks, they're the types of songs you'd listen to on a stroll through the park before the sun starts to rise on a crisp fall morning.
2. I See You by The XX.
The xx's released their third studio album on January 13th, which is roughly five years after their critically acclaimed sophomore album entitled, Coexist. The London based indie pop trio have made their return, letting go of their minimalist roots by expanding their sound into something more upbeat. The opening track "Dangerous," is comprised of four minutes and ten seconds of blissful electronic dance music. Jamie xx's work is quite prominent on this record as the transitions and even the manner in which the songs progress are quite similar to some of his previous works, which sounds incredible live! He included this intro to "Hold on," during most of the band's live performances, which definitely enhanced it. Their lyrics also continue to be heartfelt, which is expressed in "Performance." The track is sang by the band's guitarist, Romy and contains little accompaniment. In fact, she expressed how special the song is to her, when explaining why she chooses to play it on her own during their gigs.
placeholder://Despite the fact that The xx's live shows have evolved with the introduction of bigger stages with a fascinating set up, their presence is still very prominent, making their fans wish they could continue playing for hours. I cannot wait to see what the band has in store for us next year!
3. Hang by Foxygen
Sam France and Johnathan Rado definitely outdid themselves with their fourth studio album Hang, which was released on January 20th. The opening track "Follow the Leader," sets the tone for the grandiose record which undoubtedly suits France's over-the-top and energetic stage presence.The orchestration has a very cinematic appeal and France's light back up vocals in "Follow the Leader" and "Avalon" undoubtedly added more appeal as well. One of my favourite aspect of Hang is that the album is only 32 minutes, making it easier to replay it endlessly without ever having to want to take the needle of the record.
4. Apocalipstic by Cherry Glazerr.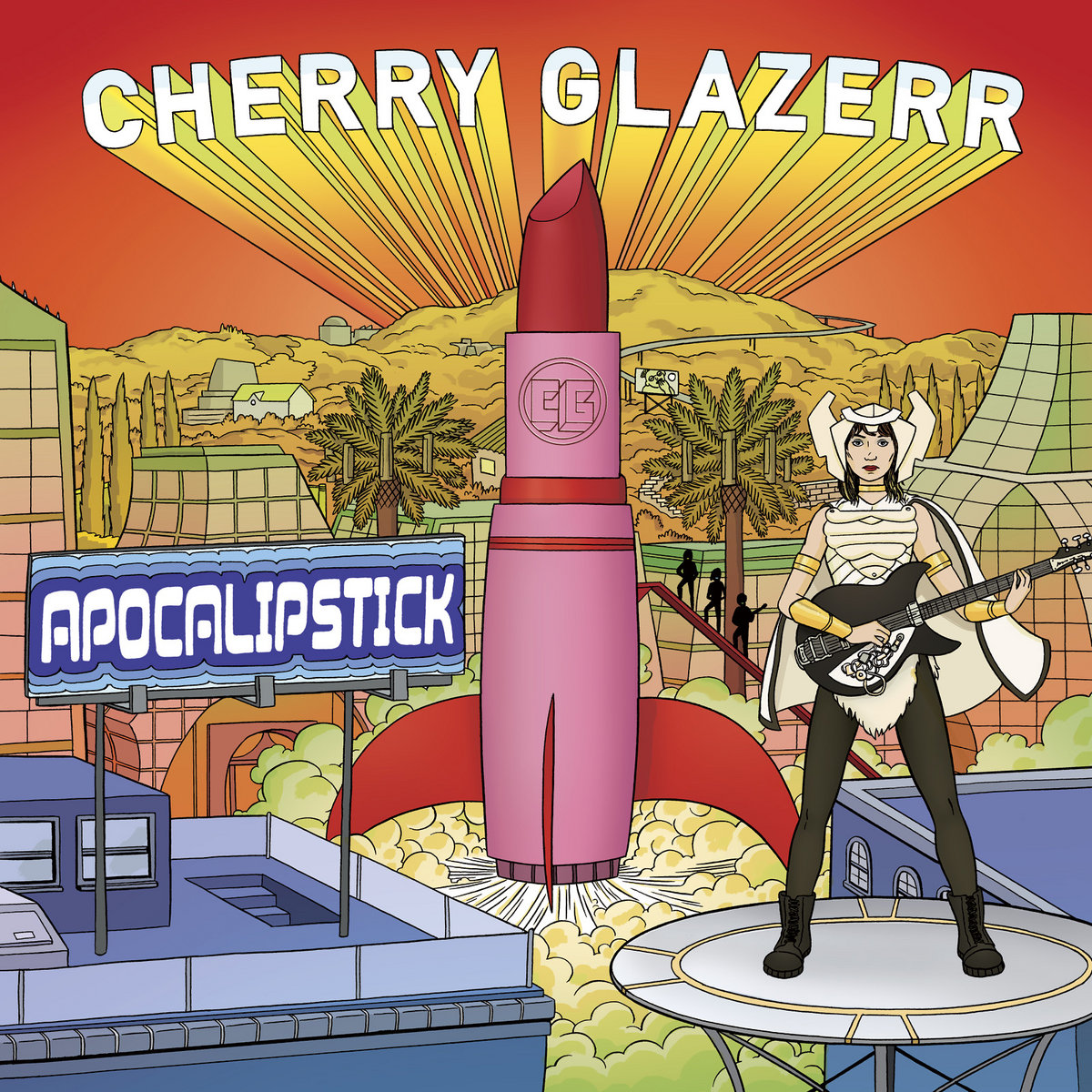 The California based garage rock foursome, Cherry Glazerr put out their third studio album entitled Apocalipstick on January 20th, approximately three years proceeding Haxel Princess. To me this record became one of the most notable releases of the winter.The band returned with a 90s indie and punk rock influenced record filled with catchy riffs, melodies and plenty of distortion. In fact, the addition of keys was something that the band explored with Apocalipstick but the lyrics contained emotional depth as usual. Clementine Creevy was joined by multi-instrumentalist Sasami Ashworth, drummer Tabor Allen and bassist Devin O'Brien for this record.As well, the album was named after the final track "Apocalipstick," which was not derived from a specific meaning. In an interview with Face Culture, Creevy expressed that she enjoys playing that song very much, given its funny, self-indulgent and energetic nature. She also states that the song solely consists of doom metal jams that are quite amusing to play to an audience during sets. My favourite track of the album is " A Single Sip of Poison," since it appears to be one of those energetic, in your face punk songs, complimented by Creevy's soft vocals and a few solos.
5. No Plan EP by David Bowie
Even though the one year anniversary of David Bowie's death only left grieving and unable to listen to the last release prior to his death, the No Plan EP was exceptional. Bowie's death really hit me hard and I couldn't get myself to listen to the entirety of Blackstar more than once, given that it was a swan song. Nonetheless, there have been plenty of rumours regarding an archive of works be released throughout the next few years. Even though he's not presently here, his music will remain with us forever. The four-song record which includes his chilling and melancholic single, "Lazarus." When I first listen to that track, I was under the impression that the first verse was solely comprised of metaphors. I was only able to connect the dots after reading about his passion on a typical Sunday night gone completely wrong. The EP appears to be a continuation of Blackstar, given its dark and heavy nature. My favourite track of the record is "Killing a Little Time," because of the riffs that complement the drums and vocals. Although it seems as though he is describing his experience during the time he was working on this record, I could resonate with it a lot which explains why it means so much to me.
6. Youth is Only Ever Fun in Retrospect by Sundara Karma.
Sundara Karma are a four piece indie-pop band from Reading. I was immediately struck by frontman Oscar Pollock's impressive vocal range. He possesses one of those voices that can be easily distinguished, given its uniqueness. On July 7, the outfit released their debut album titled Youth is Only Ever fun in Retrospect. There are elements of disco 90s punk rock, power pop and progressive pop encompassed in each song. Evidently, this record cannot be categorized under one genre. Even though the more energetic songs contain multiple loud riffs or drumming, the vocals always remain prominent. Most songs also build up, becoming louder or contain a notable guitar solo. "Lakhey" and "Flame" given their catchy choruses and riffs. I also really enjoy letting this album spin endlessly as I write, although I often if not always get distracted and lost in the music, dancing around my room.
7. Making Matters Worse by Le Trouble
 On February 3rd one of my all time favourite indie rock groups, Le Trouble released their sophomore album, Making Matters Worse through Indica records. The Montreal-based five piece's record was comprised of ten tracks starting off with "How was I to Know" which begins with catchy guitar riffs that appear to be prominent.Nonetheless they do not overpower frontman Michael Mooney's vocals. The fact that this record can be replayed endlessly as it is only 33 minutes long. The transitions between songs are also perfect to the extent that some songs almost sound like a continuation of the previous song. For instance, the transition between "Vampires" and my fave track of the album "Fatal Flaw" is quite notable as the songs do not sound similar but appear to sync together in a pleasant manner. I'm definitely looking forward to the bands next release and hoping it comes sooner than later.
8. Fresh Air by Homeshake
Peter Sagar released his third studio album under his project Homeshake on February 3rd 2017 titled Fresh Air. The record's title definitely sums it up because it simply consists of relaxing music as well as something different, refreshing for the ears.  Sagar's music cannot be narrowed down to one genre as songs like "Khmlwugh" and "Serious" which happen to be my favourite tracks contain elements of  trip hop and even R&B, which compliment his soft vocals. The synths in "Every Single Thing" are also very reminiscent of some of the tracks on Midnight Snack. It's quite evident that the record is genre-less and goes in different directions in terms of sound, yet goes together very well. In fact, the opening and closing tracks also work effectively as the sequence binds the songs together nicely.
9. Terrible Human Beings by The Orwells
The Chicago-based five piece garage rock band, The Orwells released their album Terrible Human Beings on February 17th and I have been playing it non stop ever since. If you happen to be a fan of riff driven rock songs, this album is for you. The Orwells' sound appears to be inspired by modern rock music, which explains the comparisons to bands such as The Strokes. Nonetheless, their sound is still quite original and not to reminiscent to their influences which is uncommon especially with rock music nowadays. In an interview, the band revealed that they drew  inspiration from fictitious stories that appear to be interesting, rather than throwing plenty of ideas together which was the case for their debut, Disgraceland. As well, they also collaborated together as a band in terms of the writing process.  The opening track "They Put a Body in The Bayou"  which start off with only drums and builds up to a distorted guitar riff. My favourite song from the album are "Vacation " "Heavy Head" and  "Double Feature." Not only are they all super catchy but the intro riff to "Double Feature" and the comedic lyrics to "Heavy Head" and "Vacation" are some notable aspects that immediately drew me to the record.
10. Everything is Forgotten by Methyl Ethel
Methyl Ethel are an progressive rock quartet from Perth with an intriguing  dreamy and psychedelic sound. The band was founded in 2013 by frontman Jake Webb and was later on joined by bassist Thom Stewart, drummer Chris Wright and guitarist and keyboardist Hamish Rahn. On March 3rd, the band released their second album entitled Everything is Forgotten off of the label 4AD, which was produced by Simian Mobile Disco's James Ford. He is equally known for his work with bands such as Depeche Mode and Arctic Monkeys. The instrumentation is one of the notable aspects of their songs. I was instantly drawn to this record with the release of its first single, "Ubu" which is a super groovy, danceable and catchy jam. With this record, the band explored the real of electronic dance music in tracks such as "Hyakki Yakō" and "L'heure des Sorcières," leaving behind the heavy synths in On Inhuman Spectacle. As well, the use of the organ in "No.28" compliments the guitars and Webb's vocals. Some of my song include the seventh track "Groundswell," which had a groove to it with catchy bass lines of the pre-chorus and a guitar solo before the outro. This track ended up being the songs that I replayed the most on my first listen of the album. I also enjoy "Femme Maison/One Man House" as the song gradually builds up to a distorted ending.
11. Volcano by Temples
On March 3rd, the English psychedelic rock band, Temples released their sophomore album called Volcano on March 3rd. The band recorded the album in their home studio and frontman, James Bagshaw is usually responsible for producing the records. Even though the Kettering natives' project originated in Bagshaw's home studio initially, the band continues to record most of their work independently.  It appears as though they take the do-it-yourself aspect more seriously, which explains why their records remain well produced and recorded. In an interview, the band expressed that they like to incorporate as much ideas in a song without making it unbearable to listen, which is quite interesting. Bands such as The Byrds are noted as some of their influences alongside psychedelic rock music from the 1960s, yet their sound still remains unique. One of my favourite aspects of this record is the fact that the instrumentation does not overpower Bagshaw's vocals. "Roman Godlike Man" and "Open Air" are my favourite tracks of the album, given how the distorted riffs compliment Bagshaw's soft vocals.  The distortion does not make it impossible to hear which is rather pleasant.
12. That's Your Lot by Blaenavon
Blaenavon is an English indie rock band that consists of Ben Gregory on vocals and guitar, drummer Frank Wright and Bassist Harris McMilan. The trio formed around 2013 and named their group after a Welsh town after being exposed of a photograph of its surroundings. Over the course of the next few years, the band released a series of EPS and signed to Transgressive Records before finally putting out a full body of work. That's Your Lot became one of my greatest discoveries of the year. Every aspect of the record including Gregory's prominent vocals, catchy melodies and guitar riffs are recorded in such a meticulous. I am under the impression that record could have easily make for a great instrumental piece although I do enjoy Gregory's smooth and passionate vocals that are filled with emotion. Some of my favourite album are "Take Care" and "Alice Come Home" as they both start off relatively slower and build up to a louder finish.
13. Modern English Decoration by Ulrika Spacek
Following the release of the debut full length record The Album Paranoia, the London-based psychedelic rock group released their sophomore album, Modern English Decoration via Tough Love Records in the Summer. Prior to its release, it took me several listens to fully appreciate "Everything, All the Time," which was one of the first singles for this record, given that I was accustomed to the hazy, guitar driven psychedelic sounds of their debut. The layered vocals and prominent drumming did overshadow some of the distorted guitars on tracks such as "Mimi Pretend" and "Ziggy." Nevertheless, Ulrika's sound has always appeared to be centred around the notion of experimentation, which allowed me to have a newfound love for Modern English Decoration. Listening to the record in full caused me to almost rediscover their sound and appreciate the different aspects that exist within their musical abilities. Besides, experimentation is entirely based on taking new approaches to music, making it more refreshing and giving it less of the appeal of something similar. Ulrika Spacek continue to be the group that I look most forward to hearing new release from.
14. Ti Amo by Phoenix.
It is quite evident that Phoenix released one of the greatest albums of the Summer and for the many other Summers to come. The French quartet made their return after a four year hiatus with their sixth studio album entitled Ti Amo. The sultry, groovy Italian-discoesque themed record was fabricated with the intention of creating a new palette in terms of sound. It also mirrored a fantasized version of Italy entirely based off their favourite era of music. After culminating the final leg of their tour for Bankrupt! the band decided head up to La Giate Lyric theatre in Paris in order to start planning the direction of the album. This time they opted for a more The band's guitarist Laurent Brancowitz stated that they wanted to escape their usual routine and incorporate more keyboard instead of the heavy guitars. The use of new and vintage instrumentation such as the use of tapes and the Harison board which was used to record Michael Jackson's "Thriller." Nonetheless, the quartet recorded their music using modern technology. The drum samples from "Long Distance Call" and be found on the title track, which also draws inspiration from the heavily syncopated drumming of the Sahara region in Africa. As well, Brancowitz also lists Dur Dur Band, a Somalian psychedelic funk band as one of their main influences. Greek disco was also another inspiration which can be heard with the synths in "Ti Amo" as well. Some of favourite tracks from the album include some of the groovier tunes such as "Tuttifrutti" which is mainly characterized by its syncopated synths and the layered vocals. Altogether the album is put together in such a meticulous manner, making each listen more enjoyable.
15. Currents B-Sides & Remixes by Tame Impala
Tame Impala's critically acclaimed third studio album, Currents was released in 2015. Over the course of the past few years proceeding its release, many fans have wondered about the pieces that did not end up becoming a part of the pieces that made up the Currents puzzle. Kevin Parker has confirmed the existence of a couple of songs that he planned on releasing as b-sides. After early two years of anticipation, Parker announced the release of the missing body of work which consisted of the tracks "List of People (To Try and Forget About)," "Powerlines" and "Taxi's Here" that did not make the final cut. At first I was skeptical and was under the impression that those tracks would have added more different elements that have not been explored on Currents, ameliorating it's quality as it is an experimental album. Nevertheless, that would only disrupt its structure. In fact, the song "Powerlines" sounds like it might have belonged to Lonerism. Together, all three tracks appear to flow nicely, which wouldn't have happened had they included them onto Currents. The last two tracks of the b-sided also include remixes of "Let it Happen" by Soulwax and "Reality in Motion" by GUM (Jay Watson).